August and September usually bring with them field days, allowing manufacturers to present their
newest equipment, goods and services, whilst also providing our local communities with a chance to
connect. This year, however, the global pandemic has shifted the way in which we will be carrying
out our field days.
Instead of being held in person, we will be attending a Virtual Agriculture Field Day. This will allow
customers to explore the latest products available in a safe and appropriate way. In 2021, however,
expect things to be back to normal!
Explore the Magazine
Instead of attending in person, explore this magazine, where you will find businesses presenting their
newest products and services. Businesses will also include links to their websites, videos of their
latest products, alongside more information on their social media channels.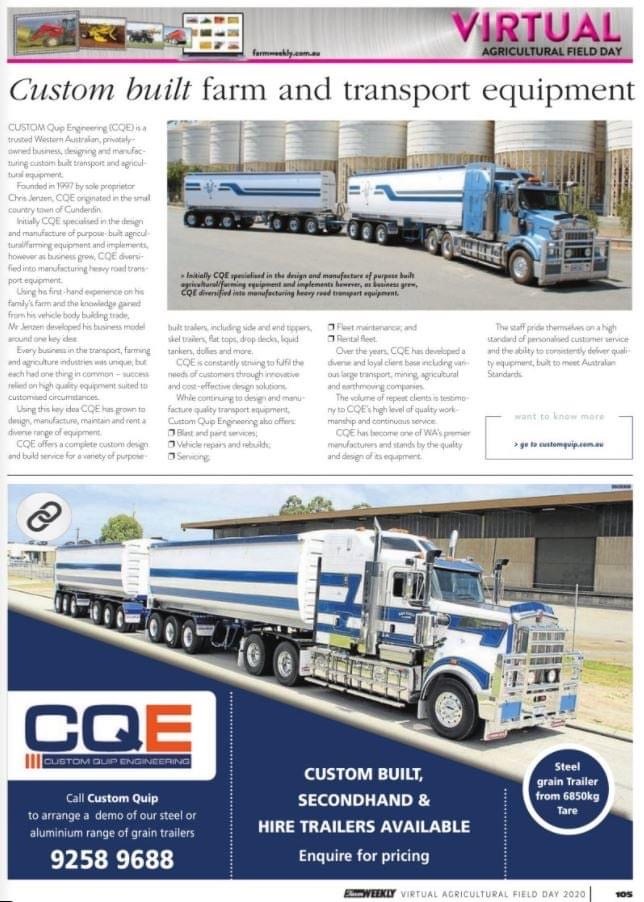 It may be different from a traditional field day, but it will still allow customers to explore the newest
innovations in the agricultural industry. It is available both in print form and electronically.
Any Questions? Let Us Know!
If you have any questions about how the field day will operate, or about our products, CQE will be
happy to help. We pride ourselves on a high standard of personalised customer service and the
ability to reliably deliver high-quality equipment, built to meet Australian standards.
For more information on our demo trailers, contact us on (08) 9258 9688 or via our online contact
form. We look forward to hearing from you and hope you enjoy exploring our new products available.